The CONDOR Despatch Management System is an MS-Windows based computer software package suitable for any organisation that uses the services of Transport Companies. CONDOR is specifically designed for despatch personnel, is easy to learn and simple to use.

CONDOR allows users to enter and maintain consignment details, print bar coded address labels, consignment notes and freight manifests. Transport costs are automatically calculated by selection of Carrier, service level, location or type of freight being shipped. Details are recorded for later analysis. Pallet movements, both inwards and outwards, can also be recorded. CONDOR is easily integrated with other computer systems using its industry standard (DOMEDI) Electronic Data Interchange (EDI) interface. Consignment details can be electronically transferred to other systems.
| | |
| --- | --- |
| Transport user | |
| Reduces labour costs for connote and label production | Reduces data entry costs using EDI methods |
| Minimises data entry and reduces errors | Bar coded labels improve freight tracking and security |
| Selects carrier on service & price | Reverse billing improves cash flow |
| Bar coded labels improve security | Accurate data reduces errors and debtors queries |
| Single or multi user | Single or multi user |
| Automatically consolidates orders - saves money | Improves pallet control |
| Easy access to historical data improves Customer Service | Improves line haul loading plans and vehicle allocation |
| Reduces paper work using EDI methods | Reduces the need to supply consignment notes |
| Reduces administration costs by reverse billing or simple account reconciliation | Reduces POD costs |
Consignment Note Processing
Consignment details such as carrier, service level, senders address, receivers address, department/cost centres, weight, items, cubic dimensions and special instructions can be entered. Regular sender, receiver, department, and types of freight are catered for to assist and speed up data entry. Facilities to handle insurance, dangerous goods, foodstuffs, pallets and product lines are also provided. Charges are automatically calculated, displayed and recorded for each consignment. Consignments already entered can be accessed for inquiry and or adjustment purposes. When entering consignment details this function will detect any similar consignments already entered, display a warning and allow the user to add the new details to the existing consignment. A consignment can be broken up into different Customer References.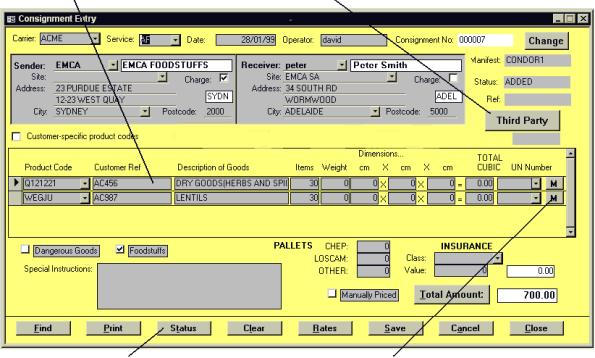 Accounts can be sent to a third party other than the sender or receiver of the goods. View an audit trail of all changes to the consignment. Allows for itemising of sub components
Consignment Notes and Labels
Freight details entered using the consignment processing function can be printed on pre-printed consignment note stationery complete with barcodes, if required. An option to selectively reprint specific consignment notes is also provided.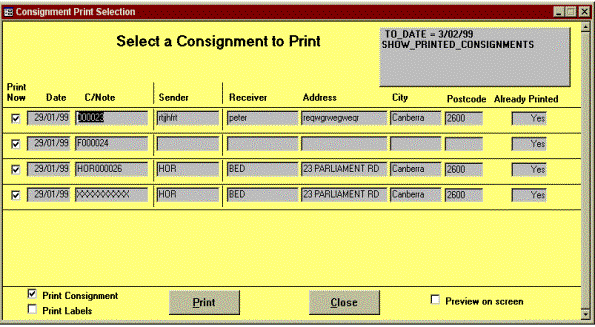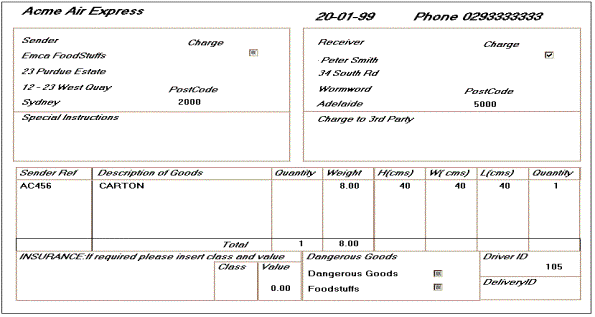 Consignment Label Printing
As consignment details are entered, stick-on labels can be printed, for attachment to the freight itself. Allowance for multi part consignments is provided (e.g. 1 of 3, 2 of 3, 3 of 3)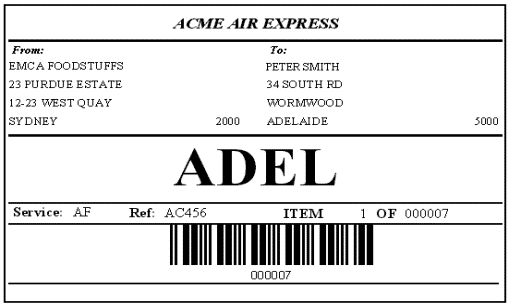 There are several different label formats available.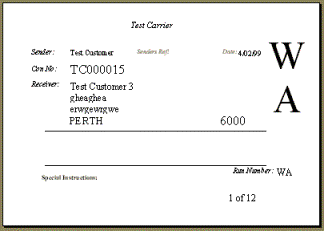 New labels can be designed to fit in with the customerís needs.† If you need to print information on pre-printed labels then a specially formatted printout can be added to the database.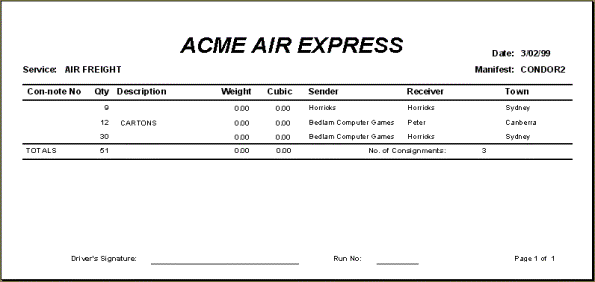 Manifests
A detailed manifest listing consignments can be printed after entering freight details. A range of selection criteria and sort options is provided to allow users to easily list the appropriate information in the correct order. Controls are in place to ensure that consignments aren't printed on different manifests.
(top)
Pallet Control Processing
The number and type of pallets associated with an outward-bound consignment can be entered as part of entering freight details. A count of the number of pallets is automatically updated and an audit trail of all pallet movements is maintained and can be recalled and reviewed for later analysis.
A separate function is provided to record the number and type of inward bound pallets.
(top)
Rate Maintenance
A comprehensive on-line rating or charging facility is built. It allows rates to be set-up and tailored to different customers' needs. Area, service, weight, item and product based charges can be maintained easily. Additional charges or surcharges can also be maintained.
Each client's rates can be kept up to date easily using the EDI interface, which transfers any changes electronically to each system ensuring consistency and integrity of rating data.
(top)
System Maintenance
Functions that allow users to easily maintain postcode, area, client, sender, receiver, department cost centre, service, product and company details are provided. All maintenance functions have basic report or listing capabilities.
Data Archiving
The amount of data maintained in the system is limited only by the amount of available hard disk space. A function to allow a periodic clean up of old consignment details is also included.
System Security
Security controls can be set-up, using passwords for individual users, to restrict access to the functions provided.
Data Backups
Data back-up and recovery functions are provided to ensure the important data maintained in the system is protected.
Audit Trail
A complete list of all consignments by date, customer, service or location is provided.
(top)

Electronic Data Interchange (EDI)
An option to electronically transfer freight details, accept delivery statusís, rating and account details, to and from other systems is available. The interface has been developed to conform with industry standard EDI rules for data transmission.

Integration
CONDOR
is an Open Database Compliant (ODBC) product which means it can be easily integrated with a large range of other ODBC products such as word processors, spreadsheets, report writers, accounting systems, etc.
Networks

CONDOR
will run on a multitude of computer brands that run the Microsoft Windows operating systems whether a stand alone PC or a multi user network consisting of many PCís.